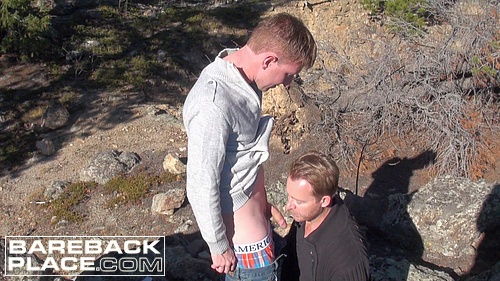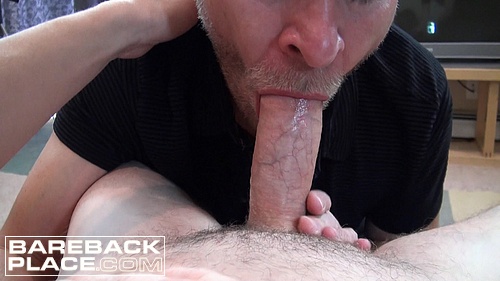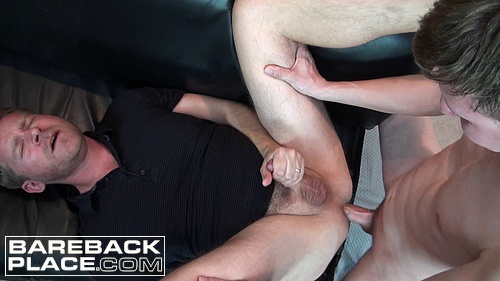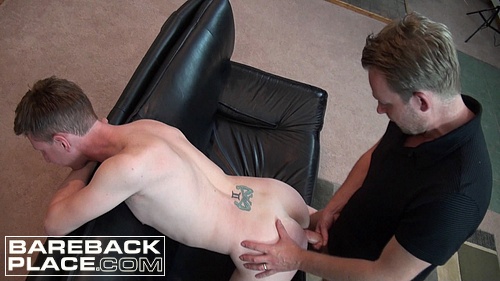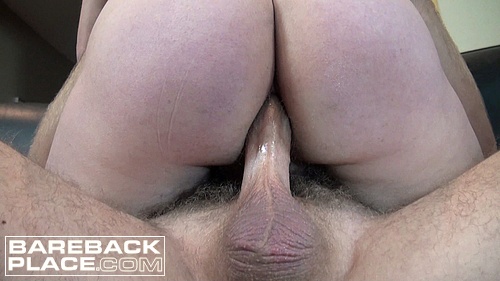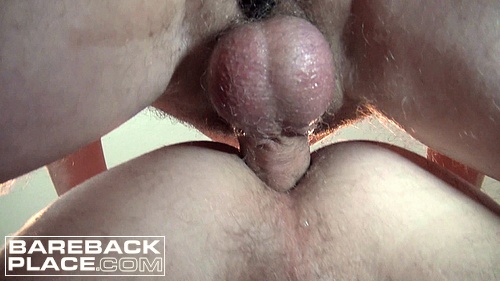 It doesn't get any more real than this! A marathon flip-flop bareback fuck session with Aaron French & Colton Harris.
In his last appearance on BarebackPlace.com, Colton took Seth Chase's raw load up his ass. Before that, over at SUCKoffGUYS.com, Seth licked up and swallowed every drop of Colton's thick load. Colton then took one of Seth's giant loads down his throat.
Hum, I think we have a cum junkie on our hands!
Colton and Aaron meet in the woods. After watching Colton's previous cum-swapping adventures with Seth, Aaron couldn't wait to get in on the action. Aaron drops to his knees and slobs on Colton's meat for a bit.
Eager to get their fuck on, the boys head indoors. Once inside, Aaron & Colton waste no time and get right to it. Aaron works on Colton's cock. Colton bends Aaron over the sofa and sticks it in. He starts pounding his raw cock into Aaron's guts.
Aaron turns over and throws his legs in the air. Before re-inserting his dick into Aaron's ass, Colton sucks on Aaron's pre-cum dripping cock.
With Aaron spread eagle, Colton re-mounts Aaron and drills him deep. The camera goes in close and captures the raw cock insertion from above and below.
Aaron is so horned up by taking Colton's bare dick up his ass, he wants to get in on the topping action. Colton sits down on Aaron's throbbing dick. He takes Aaron balls-deep and rides him from above. Colton hops off and bends over. He wants to take Aaron's cock from from behind. Aaron sticks his raw cock in Colton and pounds him doggie style.
The almost non-stop fucking has already gone on for several hours. These boys just cant get enough of each other's cocks. Aaron slides his cock out of Colton's ass. Colton gets a taste of his own ass when he sucks on Aaron's fuck-juice covered cock.
Sucking on Aaron's dirty-dick makes Colton extra horny and he's ready for more ass fucking. Aaron gets on his knees and assumes the position. Colton mounts him and fucks Aaron like never before.
Colton is ready to shoot his load. Aaron senses the cum is about to flow and spreads his cheeks wide ready to take an injection of cum. Colton shoots a thick load right on Aaron's hole. He scoops up every drop of his big load with his hand. He uses his fingers to push the cum inside Aaron's ass. He makes sure every drop is collected then finger fucks Aaron. Colton then uses his cock to push his load deep inside Aaron.
Aaron is so turned on by having Colton's semen inside him he gets back on his knees and wants Colton to use his dick to push the cum deep into his guts. He's been fucking for hours and totally deserves every drop of cum to be absorbed into his body.
Colton drills deep, using his own cum as lube & says, "You want my cum inside you, deep inside you?". Aaron moans in ecstasy as he gets breed deep by Colton.
Confident that he's injected his load as deep as he could get it, Colton jumps off. Aaron immediately takes Colton's cum & ass covered cock in his mouth. He gets a taste of his own ass and the few remaining droplets of jizz glistening on the tip of Colton's cock.
Aaron & Colton both give a thumbs up, capping off their day-long raw-fuck. After watching this video, we think you'll agree, there's really nothing better than hours-long bareback ass fucking.
SCENES WITH COLTON HARRIS: