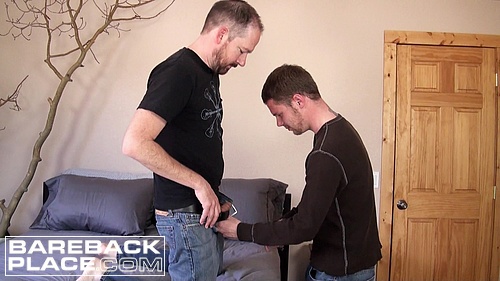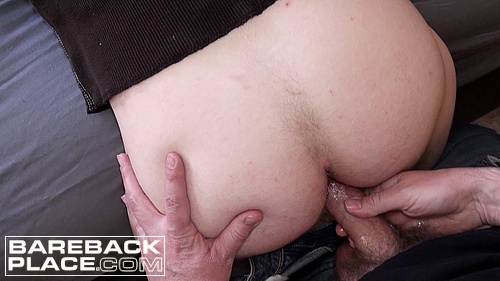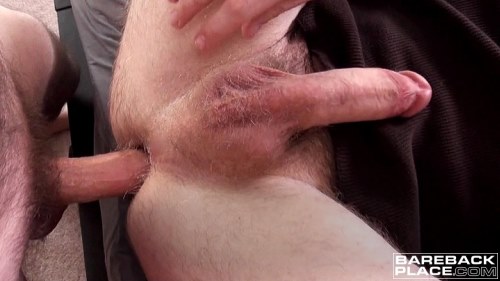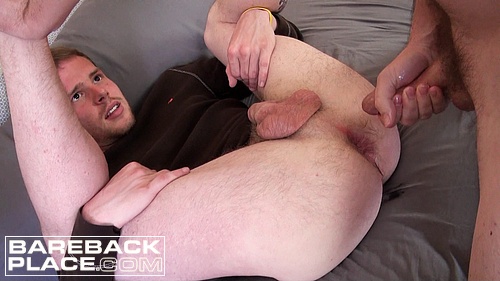 Watch Evan Parks gets his tight hole fucked raw by Seth Chase for BarebackPlace.com!
Evan normally prefers to top than to bottom. In the interview he tells Aaron that he rarely gets fucked and that it has been about a year since he's gotten boned up the ass. After learning that the shoot may take 45 minutes, he responds: "I'm going to be sore tomorrow…" Yes, yes you will be Evan!
The scene begins with Seth on the bed, Evan unzips his pants and starts sucking on his cock. Evan takes Seth's dick deep down his throat getting it nice and hard so Seth can insert it in his butt.
Seth is now fully hard from having Evan's face on his dick. Evan pops up his ass and is ready to get pounded raw. Evan takes off his jeans exposing his cute buns and a semi-hardon. He giggles as he bends over; he was probably nervous.
After some quick fingering to loosening up Evan's tight hole, Seth squeezes out some clear pre-cum from his cock and smears is all over his dick head. There's nothing better than natural man-lube. Seth now slides his raw cock in Evan's hole. Evan is clearly super tight as you'll see by his facial reactions and heavy breathing displayed with each thrust.
Although it has been a year since his last fuck, within just a few minutes of having Seth's dick in his ass, Evan pops a raging boner and starts to drip pre-cum. It sure seems like Evan is really enjoying being a bareback bottom!
Pump after pump, Evan moans and smiles really big. He sure seems to be seems to be loosening up now. Maybe he's excited by the anticipation of getting Seth's big cum load shot in his ass.
During a position change, Aaron moves in to get a close up of Evan's worked-over butt hole. It looked awesome! It was bright red and begging for more raw pounding!
Seth re-inserts his cock as Evan begins to stroke his hardon. He throws his legs high in the air making sure Seth gets his cock in as deep as possible. Seth really speeds up the fucking now. He's so ready to let Evan have his cum.
Seth unloads a big wad of cum on Evan's butt hole. He pushes his cock back in and fucks him a little bit more, making sure to get some of his load deep in Evan's hole.
Evan rubs the cum all over his hole. His asshole is now really sore, bright red, filled up & cum covered.
Evan and Seth did a great job and we hope you enjoy the hot raw action from this update. Thanks for watching!