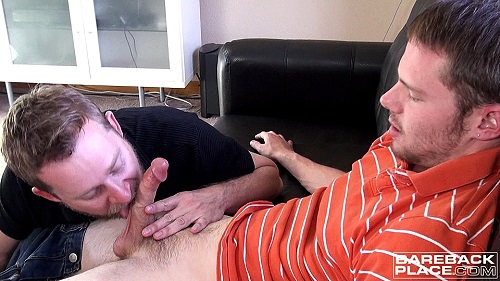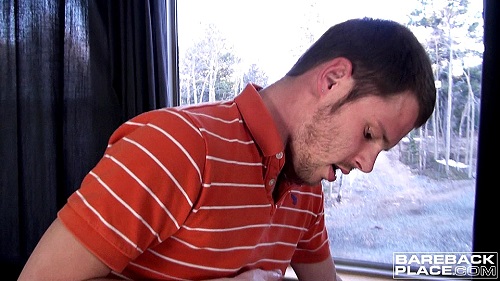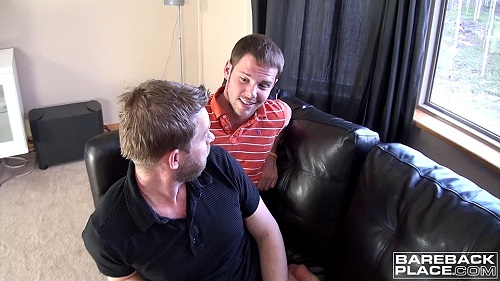 Aaron French gets his hole fucked and bred by Evan Parks in the latest update for BarebackPlace.com
Hot, 24 year-old, Evan Parks arrives at our mountain location to fuck Aaron French's butt, raw. Evan has a really nice tool for fucking so Aaron is really excited for this shoot.
Aaron and Evan start out on the sofa cracking some jokes before the shenanigans begin.
Aaron has Evan take off his pants so he can make his cock hard with using some mouth-to-dick resuscitation. It literally takes maybe 10 seconds for Evan's cock to get rock hard and into fuck mode. After some deep throat oral attention it's time to get the pounding started.
Aaron bends over so Evan can stick his cock up his hole. Like a horny jack rabbit, Evan pops his raw dick into Aaron's fuck hole and starts drilling him fast and hard.
Evan got so excited to be fucking ass without a condom that he almost shoots his load in about 30 seconds. Thankfully, he stopped himself and took a breather.
The guys get back on the sofa with Aaron bent over the arm, butt high in the air. Evan makes sure not to go too fast so he doesn't nut too early this time around.
Evan really bares down now and goes in deep with his cock; Aaron's cock is rock hard from from Evan going so forcefully deep. At one point Evan is fucking Aaron so hard that his pounding was making Aaron's cock ooze cum!
After more fucking, Evan says he can't hold back any longer! He pulls out and shoots a nice load onto Aaron's hole. He then shoves his spunk into Aaron's hole and drives it in deep. Evan takes his cock back out and rubs his dick head
on Aaron's cum soaked/filled hole.
Aaron is so turned on by having Evan's cum inside him, he flies backward onto Evan and blows a load all over the sofa. Cum up the ass, on the sofa and dripping from two cocks. Now that's a good time!
We hope you enjoy Aaron and Evan's raw fuck. Thanks for watching.