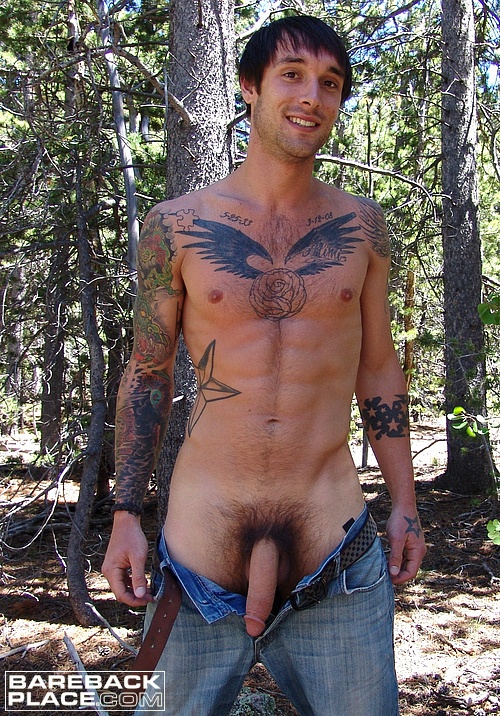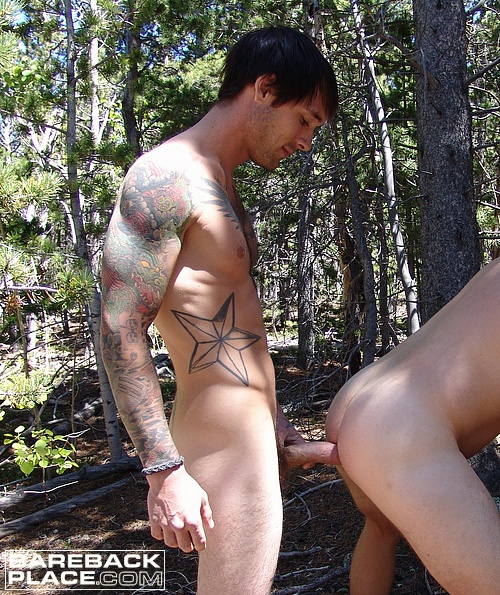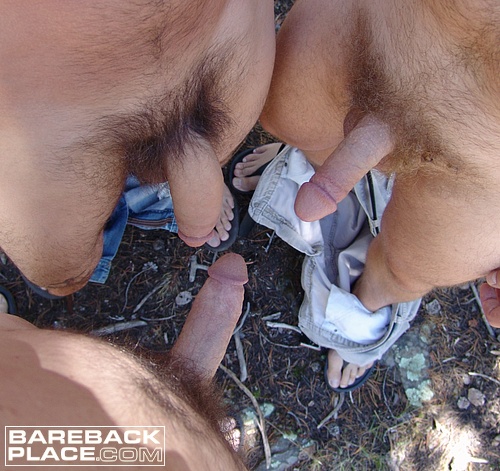 We go off road for this bareback adventure with Ethan Ever, Seth Chase and Aaron French.
Just before we hit the four-wheel trail, Ethan gives us a nice interview; He also teases us a bit by whipping out his monster cock in the back of the truck while driving 75MPH!
Once we were at our location, high in the mountains, Aaron starts by sucking on Ethan's AMAZING cock. Seth was close by and wanted in on some of the cock sucking action.
Aaron whips out Seth's dick and takes turns on each cock making sure both Ethan and Seth each get a turn in his skilled mouth.
Seth was eager to get his mouth wrapped around Ethan's fat dick so he was next in line to get on his knees. Before we knew it, both Ethan and Seth were butt naked.
It's so hot seeing three dudes getting it on in the great outdoors.
Ethan was standing over Seth. Seth was going to town on Ethan's cock. Seth's cock was throbbing so hard! Every suck on Ethan's dick made Seth's dick pulse. Aaron then takes over for some sucking to give Seth's mouth a break.
The next move surprised Aaron and Seth; Ethan wanted to have a circle jerk. So we did! Ethan got so turned on by stroking two cocks; you see his monster dick get really and we mean really, engorged with blood.
Aaron was then ready to have Ethan start the fucking.
Whilst sucking on Seth, Ethan was getting ready to nail Aaron. Ethan inserts his raw cock and begins to pound Aaron. Aaron is getting it from both ends!
Aaron hops on Ethan's cock to go for a ride. The ride then turns into Ethan fucking Aaron from behind; probably Aaron's favorite position.
Seth, getting turned on by the fucking going on, slides his cock into Aaron's mouth. Seth on one end of Aaron and Ethan on the other, makes for a great spit-roast fuck scene.
Next, Aaron is legs-up and Ethan inserts his unit and strokes Aaron while he pounds Aaron's hole. Ethan was quite worked up and you can hear his sexy grunts as he fucks!
Now with Aaron up against a tree, Ethan fucks Aaron's ass with determination. Ethan grabs Seth's dick; stroking it with every pump he gave Aaron's ass.
As the fucking got more intense, Ethan starts to pound away while enjoying the experience of such a spectacular setting.
Ethan blows his load inside Aaron's ass and up onto his back. Aaron then tells Ethan to stick his cum-covered dick back in for more fucking. Aaron was so turned on by Ethan's raw load that he blew his own load while Ethan was still fucking him.
It was now Seth's turn to give Aaron a load.
By now you probably know how much Seth loves using another guy's cum as lube… Seth collects some of Ethan's cum with his fingers and places it on his dickhead. He then inserts his dick into Aaron's hole and pounds him really hard and really deep.
Seth, being the cum sucker lover he is, was also kind enough to lick the rest of Ethan's cum off of Aaron's back.
Seth really worked over Aaron's hole by sliding his cum covered dick in and out.
Seth was so worked up by the sensation of Ethan's jizz already in Aaron's ass, that he blasts a giant load himself. He then shoves his dick right back in Aaron's ass and mixes the two loads of cum deep in Aaron's hole.