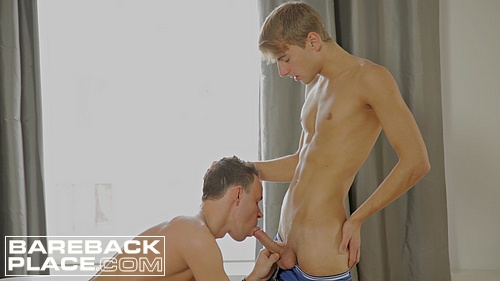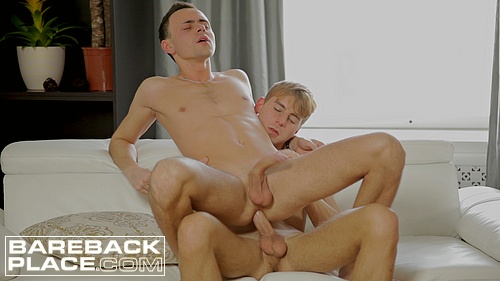 20 years old, blond and really cute, Landon walks in on 21 year old Riley just as he starts to jack off to Internet porn.
These uncut hotties get right to it. They start kissing and Riley lays back, throws his legs in the air and Landon moves in. He takes his uncut cock and slides it in Riley's hole.
The boys pound in a bunch of positions before Riley finds himself on his back again. Riley's cock is hard the entire time. He's loving the feeling of Landon's cock deep inside him.
As he drills away, Landon grabs Riley's hard uncut cock and jacks him off. Matching stroke for thrust, Riley explodes and shoots his load in Landon's hand. Landon takes Riley's cum and smears it on his own dick. He then reinserts his bare, cum covered cock and fucks Riley with his own cum.
Landon pulls out and uses Riley's cum to jack himself off with. He shoots a really big load all over Riley's hole and ball-sack.
Landon licks the cum off Riley's nuts, then kisses him with a mouth full of cum. Watching these smooth twinks snowballing is pretty hot!